The use of the helmet and of restraints on Charlie, and the inconsistent reporting to us about these, raise serious ethical questions about the treatment of students in an autism/ABA program in a public middle school in New Jersey. But it's not only the autistic students who are being compromised by unethical practices. The way in which the autism program is set up and administered----the system---invites questioning, and especially in the area of conflicts of interest.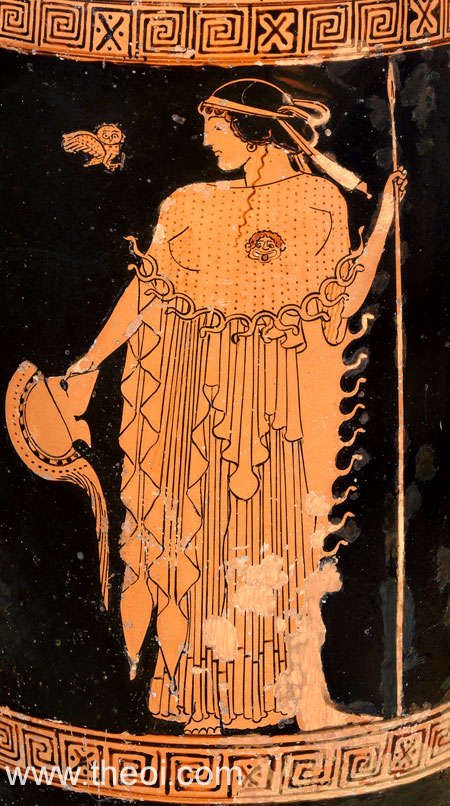 (Hence, an image of Achilles in "conflict" and Athena interceding.)
After three emails, a special education administrator responded to our request for an emergency meeting. We were told that, due to Charlie's case manager being out of the district until next Wednesday, a meeting cannot be scheduled until then.
(So all of the duties of the case manager are in limbo until her return?)
The in-district public school autism program based on Applied Behavior Analysis (ABA) that Charlie attends is highly touted. We're not the only family that has moved into the school district for its autism progam and special education services. Last year, at least a dozen new students who are on the autism spectrum started in the district just as school was starting. 
My in-laws bought their house in this town over 30 years ago, but we moved here after Jim, while attending a fundraiser for a new private autism school  in December of 2005, asked someone what public school district had a program that had the same trained staff and supervision from consultants as one of New Jersey's small private autism schools. When Jim heard the name of the town---this town, the town that his parents had moved into just as he was starting college and which Charlie was used to visiting almost every weekend for many years to have dinner with his grandparents----Jim did a bit of a double take. It was something to find out that there might be a good educational situation for Charlie in a place he was already familiar with. 
The reasons for the program being said to be good weren't only because of the ratio of staff to students in the autism classroom: That ratio is more than 1:1, with there being one aide for every student plus a teacher. Further, the behaviorist who is the program's consultant is a psychology professor at a small college in northern New Jersey, a college at which one can earn a Master's degree in ABA. One can also earn a post-baccalaureate certificate in ABA, and a Ph.D. program wasrecently started. A number of the school district' teachers, therapists, and aides are enrolled in this program. Apparently, our town's school district---with said professor as its ABA consultant---is a site for students in that northern New Jersey college's ABA programs to get training and experience in. 
Staff with training and, it seemed, good supervision: These seemed to bode well for Charlie's education. It seemed a clear advantage that, with staff with such training (and academic instruction), when (behavior) issues in the classroom arose, these could be addressed on the spot. Charlie's previous and current teachers were getting their Masters and Charlie was a participant in his previous teacher's Master's thesis (on taking children to church). Compared to some of the aides Charlie had had in another New Jersey town, the experience of the teachers and aides seemed more than adequate.  
Last school year and this school year (all not quite two weeks of it) suggest a more complicated picture.
Charlie has the same teacher this year as last year and it was she who, in October of 2008, first started talking about placing Charlie in a "temporary residential placement," specifically at Bancroft Neurohealth's Lindens Unit in South Jersey. We did not think this an appropriate placement and there was a meeting. 
The meeting was to be held in the office of Charlie's then-case manager. Charlie's current and previous teachers were already present when Jim and I entered. We had been asked to meet first in the office of one of the Supervisors of Special Services. The district's ABA consultant, the above-mentioned professor, was also present and the ensuing conversation was interesting. 
(So interesting that its content is worthy of more discussion, later)
We then all went to the then-case manager's office. The two teachers were still there and, as Charlie's previous teacher said a few sentences about how his previous year had been (it was one of his best; this was the year he was taking cello lessons with the school's music teacher and going on farm field trips and calling for one guy aide in particular; Charlie adored him)---as Charlie's previous teacher spoke, I felt very aware of the fact that the professor (the school district's ABA consultant) was a professor and advisor for both his previous and his present teacher. In other words, at a meeting at which crucial and life-affecting decisions were being made about our son Charlie's education, there were some conflicts of interest. 
It's not only that the professor was grading and otherwise evaluating and assessing her graduate students (i.e., Charlie's previous and present teacher). As a professor and advisor, she would be a source of recommendation letters and of professional contacts that could be---are---crucial for one's career. Her influence could extend years beyond the time hers students/Charlie's teachers studied with her: What if they needed letters when they were up for tenure? or for a fellowship or grant?
What might you say at a meeting about a student who was floundering, despite your application of the "behavioral principles" you had learned in graduate school, with his parents present and, also, with your professor present---a professor who had taught you much about ABA and teaching autistic children, had taught you much related to your career? 
You would have to choose your words carefully. 
Whose interests would you feel you had to put first?
Image of Achilles & Athena from theoi.com.